If you are ever wondering, would product video adverts work for you? 
The answer is yes. 
Video marketers around the world are utilising product video ads. That's because 87% of marketers have found that video has a positive impact on ROI. 
There are so many more statistics I could throw at you but you've clicked on this article and I'm under the assumption that you are interested in creating videos that help promote and sell your product. 
In this article, we're going to predominantly address video advertising, e-commerce video ads and advertising video production. 
However, if you want a return on your investment creating the videos and understanding how to get them in front of the right people at the right time, is key.
*snaps clapper board* Action!
How Video Marketing is Being Used?
Video marketing is everywhere. 
If a device has a screen, audio and an internet connection, it can access and be targeted with video advertisements. 
Videos are prolific for a reason. Because they work. Video content makes up 82% of all internet traffic by consumers.
Hubspot did a study and found that 54% of consumers want to see more video content from their favourite businesses and brands. 
Platforms for video advertising are endless. You can have them on your website, social channels, paid advertising platforms, YouTube, you can even go all out and buy yourself a cushy little spot in the prime time television adverts if you want. 
Not only that, the real thing that helps with ROI is the targeting that comes with online advertising. You can specify your target geographic locations, different genders, income levels, interests, and so on. Having these filters set to the specifications of your target audience is going to get you in front of the right people at the right time.
As a full-service digital marketing agency, we have noticed a massive increase in clients coming to us for videography services for their businesses. Likewise, we have also ramped up our production of video content for our brand and the insight into audience engagement has been phenomenal.
Our resident videographer, conducting an interview for a video marketing campaign for a client (image link).
Products & Services that Benefit from Video Marketing
Some industries that invest the most heavily in advertising video production are manufacturing, finance, real estate, e-commerce and healthcare. These are all saturated markets and video marketing allows these companies the opportunity to stand out from the crowd and be heard.
However, video marketing can be used to sell 'virtually' any product or service. 
Ecommerce video ads are great because in such a broad market it allows the brand to differentiate itself and have a unique voice. 
Videos can provide clarity to complex topics, they can give a better understanding of space in a house or its unique features in motion like in a pair of running shoes. 
Videos increase engagement, foster trust between consumers and the company, and can help to generate leads. 
Truly all can benefit from using video advertising and video content online.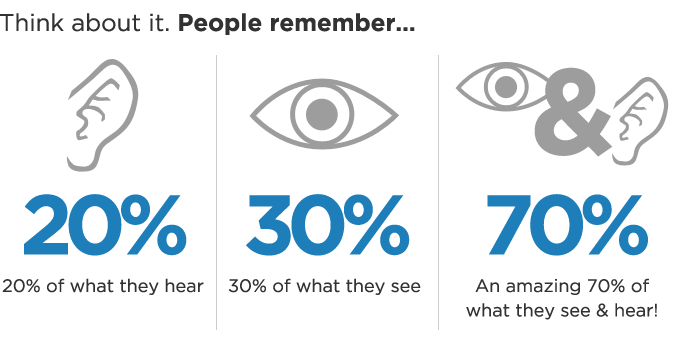 Creating Effective Video Marketing Campaigns
For some businesses, video marketing has gone from a small part of a company's budget to a designated department. 
For advertising video production, it can be as simple as setting up a camera, hitting record and starting to speak. If the message is on point, presented well and engages the audience, you've hit the mark. More often than not e-commerce video ads are more dynamic, have been planned, storyboarded, tell a story and have a call to action. 
Having an experienced videographer on your side will help a lot. Someone that can take an idea from a storyboard and understand what elements are needed to bring this to life.
Knowing what platforms you want to advertise on beforehand will save time as well.
Different platforms and paid advertising require different aspect ratios and time limits for your video. This is a great opportunity to make different variations of the same video to keep viewers engaged who have already been targeted with your ad. 
Ideally, video ads should be 30 seconds, with a maximum of 2mins. Anything longer than 2 mins and people are either going to move on or start resenting you.
The Process of Creating a Video Advertisement 
1. Brief 
This can be a documented discussion internally with your team or if you're hiring someone to help shoot your video. 
This clarifies and defines who you are, what you are showcasing, your target audience, your tone of voice, what style of video are you looking for, where you'll be promoting the video, what other videos inspire you, and so on.
2. Storyboarding and script
By having a storyboard and script to follow, you'll save a lot of time and money by knowing exactly what it is you're looking to achieve. 
A storyboard and script are the guide for the videographer, voice-over actor, talent and any other people that may be involved.
To create storyboards we have used software like photoshop and illustrator but time and time again we always are a fan of pen and paper. 
Take the notes for your brief and start fleshing out some ideas. 
3. Source production staff and talent
Starting with the most important part, who's going to shoot and edit the video? 
A videographer and editor will provide a wealth of insight, understand the different types of equipment necessary to get all the shots, direct the talent in the scenes and get extra footage so that there's always something to work with.  
If you are creating an animated video then your priority will be to find an animator for the job in replacement of a videographer and editor. 
Following that you'll want to have a project manager who deals with all the finer details of timelines and management. Also, talent is important, you could ask people you know to be in the video or you can go to a talent agency. 
Additionally to that, the list of job roles involved in making a video advert is endless. Your budget will be the biggest factor in how big the video production will be.
Other roles you may need to fill are hair and makeup artist, stylist, voice-over actor, lighting technician, photographer, set designer, sound engineer, location scout and the list goes on. 
4. Scout location
When scouting a location first of all go through the script and determine what locations you need to find and secure. 
Secondly, source your list of locations. Visit each location at the times you intend to shoot to take into consideration lighting and any interfering external factors that may impact the video. 
Once you have decided on the locations you want to shoot at, you have to get the appropriate permissions from the owners, come to an agreement on the price of hiring and finally sign location release forms. Also, get the owner's contact details so you can get in touch with them about anything in regards to shooting at the property. 
Map out where and when you're going to be shooting each location, some may be further away than others and you'll have to assess what's the best way to navigate this.
5. Shoot video
On your day(s) of shooting, the project manager will communicate to everyone involved about how the following day(s) will transpire. 
Everyone will know where they've got to be when they've got to be there, where to park and what it is exactly that they will be doing. 
The videographer will arrive with all their gear, set up and do some test shots to make sure everything looks right. The makeup artist and stylist will get everyone on camera ready. Then the videographer and project manager will explain the shot they want to take and then when everyone's ready, filming begins.
This is where all the elements from the script and storyboard get captured. The videographer will make sure that extra footage is taken so that there is plenty to work with in post-production.  
6. Editing
This is called the post-production phase. It's when the videographer and editor sit down to stitch all the elements together and bring the video to life. 
Now would be the time, if you are using a voice over actor to get their readings of the script recorded, revised and sent to the editor. 
The editing process can take time, so make sure that both parties understand the timeline set in place.
The editors will come to you with a draft video, where you can then collaborate on how it's looking and discuss any changes you want to make. 
They will then go back and make the requested edits before showing you the final product. 
Make the editors aware if you want to share this video on different platforms like Facebook, YouTube, Instagram, etc. They will have to make the necessary changes so that it is the right aspect ratio and be consistent across all your channels. 
7. Publishing on different platforms
Now you have the final product and its variations, and it's time to put it out to the world. 
If you are using these videos for online advertising whether it's on YouTube, Facebook, Instagram, Linked In, Native ads (video ads for websites e.g. blogs) and so on. It can be hard to know what the right mix is. 
To give you more clarity take a look at your budget, look at where your target audience spends their most online time and look at the length of time you want to be running these ads. Answering these questions should help you narrow down where you want to run these ads. 
When posting these videos to your social channels, tools like Hootsuite can tell you when your audience is most likely to be on their devices at certain times. Scheduling your post for when it has the most chance of being seen is advantageous. Additionally use five specific hashtags related to your business, product or services to have more reach. 
If you are wanting to put your ad on TV you'll need to go through the appropriate channels to do so.
The Challenges
There are two sides to this, there are the challenges that you need to face when it comes to having a promotional video that speaks to your audience and then the technical challenges of planning and filming it. 
When it comes to making a video that sells, the biggest challenge is connecting to your audience and getting them to take action. With videos, you can tell a story and evoke an emotional connection between the viewer and your advertisement. If this is lacking they may feel confused, nonplus or indifferent. If that's the case they definitely won't act. 
During the process of creating the video, other challenges can arise. This is why we emphasise the importance of the planning and preparation phase. If you have your objectives clearly defined, reasonable timelines in place, all the necessary paperwork and documentation, everyone knows where they've got to be, when they have to be there and what they are doing. All the i's are dotted and the t's are crossed. This will save you much time, energy and money. 
As we come to an end, the main takeaways we want you to get from this article are: 
As you do more videos for your business you'll start to get an understanding of what speaks to your audience and what doesn't. What video caused higher click-through rates and which didn't. You can't hit a home run every time but you can learn from every hit. 
A clear goal in mind, budget, timelines, patience and the right people is the recipe to your success in creating a product video that sells. It's like a Jamie Oliver 5-ingredient cookbook for video marketing. 
Videos are an excellent way to build an emotional connection to your audience and anyone viewing it.
And as always Lime Digital are always here to lend a helping hand. We are highly experienced in video marketing and have a network of connections that can meet all budgets. Give us a free call and see. 
That's a wrap!